I spent some time on the phone yesterday afternoon trying to pitch a story to journalists-- a foolish attempt, as of course all eyes and minds were on Obama's visit to Ottawa. So I took a break and watched the coverage myself. I love this image of Obama and Michaelle Jean sharing a laugh as he got off the plane- consider the early lives of these two people, and look where they are today.
But my favourite image of all? People standing on the giant snowballs they'd rolled to get a better glimpse. We're resourceful up here in Canada. Try and do that with rain, Washingtonians!
You can't help but be mesmerized by Obama.
boingboing has posted a wonderful diagram
created by Garth Risk Hallberg
.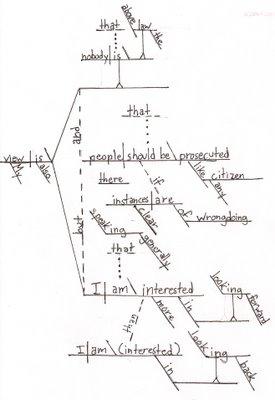 It's such a treat to be able to meaningfully dissect finely crafted speeches, to take a look at the anatomy of complex and well-built rhetoric. Dare we hope that Canadian speech writers are doing the same?
And today,
Rick Salutin in the Globe and Mail
provides an entirely different perspective on Obama, a what-if-we-could-see-through-his-eyes analysis. I think it's spot-on: "Imagine Barack Obama waking up yesterday. Already, for hours, thousands have been astir, focused on his day, making his breakfast, welding manhole covers shut in Ottawa etc. It dwarfs the Roman imperial cult." Obama has written extensively of his respect for the poor and his faith in the power of ground-level community organizing. So Salutin asks, how does he reconcile his ideology with the enforced opulence of his present-day life?
And this just in.
.. he likely didn't even eat the beavertail that seventeen-year-old Jessica Miller sold him. Awwww...
Now back to pitching... let's see if anyone is listening today.